End Your Cookout Troubles with a Kingwood Deck Cover
A Kingwood deck cover will not let the humid and warm weather interfere with your next cookout. Kingwood Texans are probably familiar with the surprise rain showers and the burning heat waves that tend to visit you and your family on the most inconvenient days. Cancelling a much anticipated cookout or moving all your setup indoor because of an unforgiving weather condition is a frustrating experience. Everyone loves a nice cookout, and weather should be the last thing you and your guests stress over. So let's end all these weather dramas with a simple installation of a kingwood deck cover.
Serving as a roof to fend off any pouring rain and scorching solar radiation, Houston Outdoor Kitchen's, & a Kingwood deck cover will keep your cookout alive on any typical Kingwood summer day. Gone are the days when you need to check for weather updates and pray for good weather. Instead, install your patio and deck cover with Houston Outdoor Kitchen Pros. Focus on your meal planning and other cookout logistics; we have the weather under control.
Grab Your Gorgeous Patio and Deck Cover Now!
But patio and deck covers don't just end your weather troubles. In fact, patio and deck covers are known to keep your patio and deck much cooler during the dog days of summer. The shade provided by these beautiful and sturdy patio and deck covers also effectively protect your lovely deck, patio, and other gorgeous patio furniture from suffering UV-induced fading.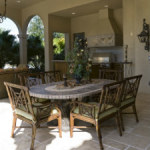 When you choose Houston Outdoor Kitchen Pros for your patio and deck cover project, you will be immediately blown away by our competitive and unmatched customer service and professionalism. Not only do our patio and deck covers come in a generous selection of color and design choices, we also offer excellent customization flexibility to complement the architectural charm of your home.
Our patio and deck covers are beautiful, durable, and made of high-quality materials. We take our jobs seriously and will make sure that every penny you spent is carefully invested in transforming your patio or deck into a luxurious outdoor living space!