Instill a Feeling of Originality with a Kingwood Wood Deck
Feeling a bit trapped in your house and dying to get out for a little sunshine or a few drops of gentle rain? You can do all these and more when you decide to build a Kingwood wood deck right in your backyard. Always timeless favorite of many homeowners, wood decks are loved for their traditional charm and versatile entertainment options.
Homeowners love their Kingwood wood decks because they could easily relax in one of their well-furnished deck chairs or sofas without spending a single cent on gas. Whenever you have an outdoor social event in your backyard, your wood deck will add a unique dimension that seamlessly integrates the beauty of outdoor and indoor complexities to your landscape design. Let the cool breeze and nature's sweet aroma refresh your party guests as they sip their freshly pressed lemonade and bite into their sizzling barbecue ribs on your very own Kingwood wood deck.
Build Your Comfort Zone with a Beautiful Wood Deck!
As a premium wood deck builder Houston Outdoor Kitchen Pros understands that building a wood deck takes not only exceptional professionalism, but also unsurpassed creativity. Every house is built differently, and every homeowner has a unique style that needs to be competently addressed and satisfied.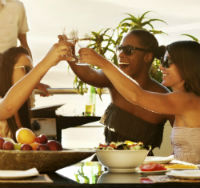 This is why we offer all our clients a free consultation with one of our skilled wood deck builders. Tell us what you want and we will build one that meets your personality and budget! In fact we will deliver the best quality wood deck at the lowest price!
At Houston Outdoor Kitchen Pros, we offer competitive wood deck building services that will leave you completely intoxicated with a gorgeous wood deck. Want a standalone wood deck that captures the feeling of tranquility? What about an elegant wood deck that serves as a bridge from your cozy house to your sparkling personal pool?
We are also more than happy to design a deck gazebo for those of you who covet the look of a royal garden. Contact us today and embark your dream wood deck building project tomorrow!